Your Single Source
for Quality Home Repair
Local service pros, confirmed fair pricing, guaranteed results.
One call to fix it all
Whatever your home repair issue—leaking sink, roof repair, full room renovation—Castle has experienced service pros to get the job done.
How Castle Works
Your personal Castle Expert handles all the details of the project for you. Watch our video to learn more about how easy home repair can be with Castle.
Call to schedule a repair assessment
The Castle Experts are your partner in home repair. They take on all the work of coordinating with service providers, managing the process, and helping ensure you receive a fair market price. The Castle Expert advocates for you every step of the way.
Review and approve your estimate
A service pro from Castle's network of experienced professionals is sent to your home to assess the issue. You receive a detailed estimate that outlines the entire scope of work in plain English. Once approved, the work proceeds on your schedule.
---
3-Year Warranty
All repairs are protected by our three-year workmanship warranty.
Read More
Verified fair market pricing
The Castle Experts use advanced estimating software and their own deep experience to independently verify that you always receive the fair market price for your work.
---
Our network
We have built a huge network of highly qualified, licensed, and background-checked service providers in more than 40 unique service categories.
---
Castle Experts
Your Castle Expert advocates for you throughout the process—ensuring you understand and are satisfied every step of the way.
---
Our fair-price promise
Castle uses state-of-the-art estimating software and extensive experience to help ensure you always receive a fair market price for your work.
---
Deal with the pros
All Castle employees and service providers are highly experienced and knowledgeable repair professionals.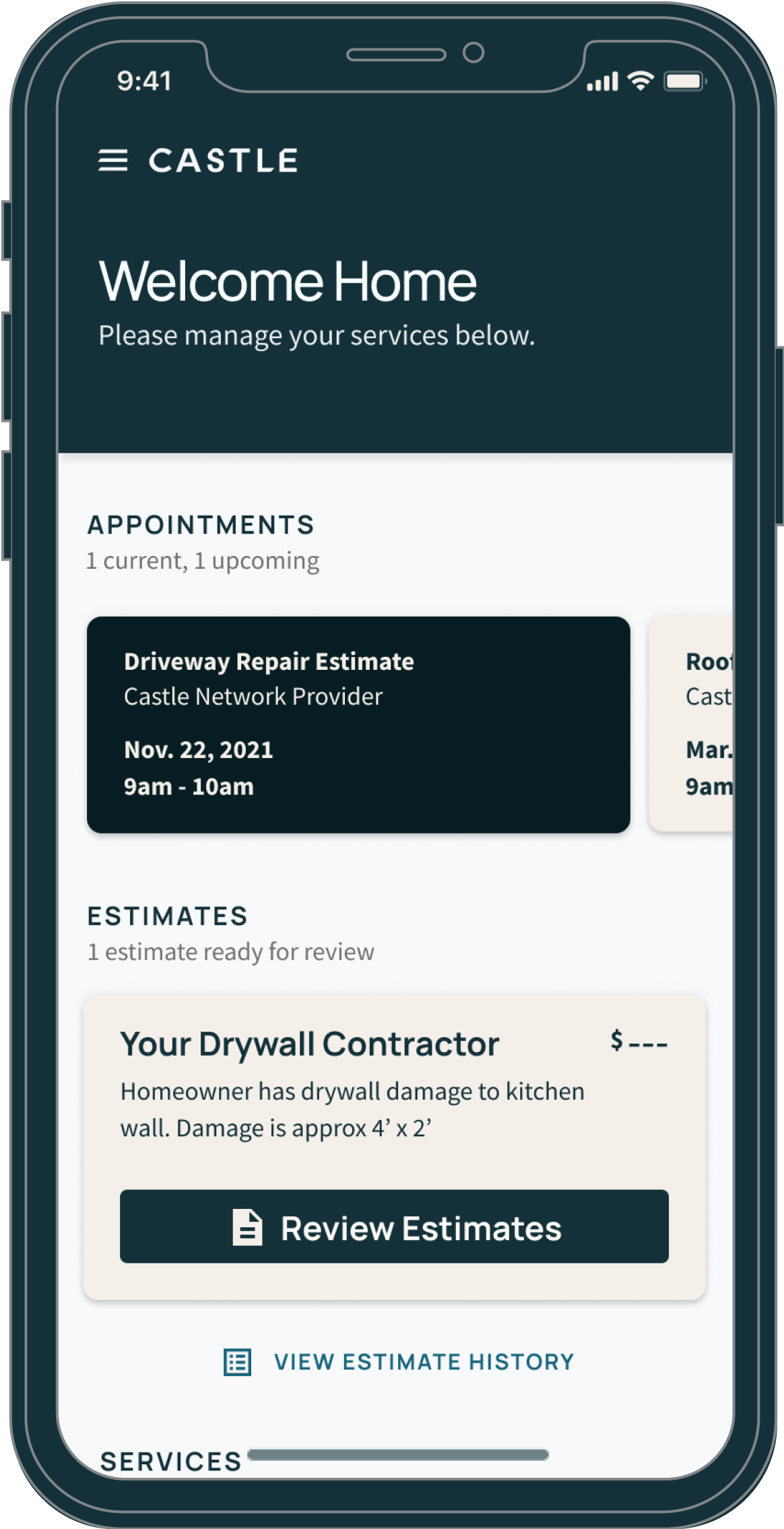 Let's Fix It All Together.
Meet Your Home Repair Team
No homeowner should have to take on tough home repair challenges by themselves.
Your Castle Expert
They will guide you through your repair, select the right service provider for the job, and ensure that your repair is completed to your satisfaction.
Your partner through the service process

Offers expert guidance on every aspect of the job

Available 9am - 6pm ET // 8am - 5pm CT

Schedules appointments, coordinates services, and answers questions
Our network of service providers
The Castle network covers a wide variety of home service needs, and your feedback ensures every service provider is professional and courteous.
Thoroughly qualified and credentialed

Covers over 40 unique service categories, including general contracting

Reviewed by you after every service

Carry appropriate insurance and pass criminal background checks
Can I negotiate my estimate?
No. Castle verifies each estimate to save you the time and hassle of negotiating a fair price.
---
Do I have to pay an assessment fee?
Only if you decline your estimate or cancel the service. If you accept the estimate and get the work done through Castle, we waive this cost.
---
When do I pay for my service?
Castle requires a valid payment method on file before you can approve estimates or begin service. However, you don't pay for your service until after the work is completed and you are satisfied.
---
What payment methods do you accept?
Castle provides greater convenience and security with our online billing and payment platform. We accept Visa, MasterCard, American Express, Discover, and JCB credit and debit cards. Payments through PayPal are also supported, providing additional options, including installment payments, credit, and direct bank payments.
---
Can Castle service providers start the same day they provide an estimate?
For many of our small jobs, our service providers are available to start the repair as soon as you are ready.
---
What is the Castle website for?
Think of the Castle website as your digital repair "paperwork." It will keep you updated on appointment times, let you accept or decline estimates, and allow you to pay for your service.
---
Working during COVID-19
We are encouraging Castle Service Providers to follow the construction and home repair employee guidelines put forth by the Centers for Disease Control and Prevention as closely as possible. You can learn more about our COVID-19 response here.
---
What if I don't like my service provider?
If you are unhappy with your service provider for any reason, please call Castle at 1.888.812.2785. We would love to hear about your experience and will do our best to resolve your issue quickly. That said, we pride ourselves on our network of vetted service providers—chosen for their experience and exceptional customer service.
---
Do you have weekend service?
Castle does not currently offer weekend service.
---
What if I am unhappy with my service?
If you are unhappy with your service for any reason, please call Castle at 1.888.812.2785. We are always open to hear about your experience and will do our best to resolve your issue.
---
Who are the Castle Experts?
Our Castle Experts have deep knowledge in the home repair industry and are fluent in the technical considerations that go into maintenance and repair projects. They will guide you through your repair using approachable, straightforward language.
---
What happens if a repair takes more than one day?
For repairs that last more than one day, you will schedule a follow up appointment with your service provider on the first day of your repair. You will receive a text confirming your next appointment, and it will also be displayed in the Castle website.
---
Is there a limit to how many times I can call Castle?
There is no limit to the number of times you can call Castle. In fact, we'd love to hear from you at any point in your repair journey! Call whenever you need something.
---
How does the three-year warranty work?
To learn more about your three-year workmanship warranty, call Castle at 1.888.812.2785. You will be connected to a Castle Expert who will ask you questions about the issue and initiate the warranty process.
---